Under Construction
HELLO@STUDIOREV.ORG • (917) 902-5396
We are artists, techies, immigrants, workers, women, and youth codesigning creative media and public art to redistribute power and build socioeconomic and cultural equity.
We've impacted the lives of millions of working families, migrant workers, teens and college students, youth from historically underserved communities, and policy makers through the media and platform that best captures their imagination.
We've made mobile studios, immersive installations, apps, books, augmented reality experiences, films (documentary, fiction, animation, hybrid), choreographed dances, character design (including one whose fame rivals Santa Claus), and more.


A San Francisco-based storefront gallery (2000-2005) showcasing 33 exhibitions
On the anticipatory nature of recipes together with their promise of what will unfold, take place, be consumed. "Guy Debord masquerading as Julia Child, or vice versa." — ArtPractical
Cross-Platform Campaigns
Augmented reality, interactive voice apps, audionovelas, comics, curriculum creation, character and costume design
Design for Movements
Logo design, branding, graphics for on-the-ground to social media campaigns, books, newsletters, etc.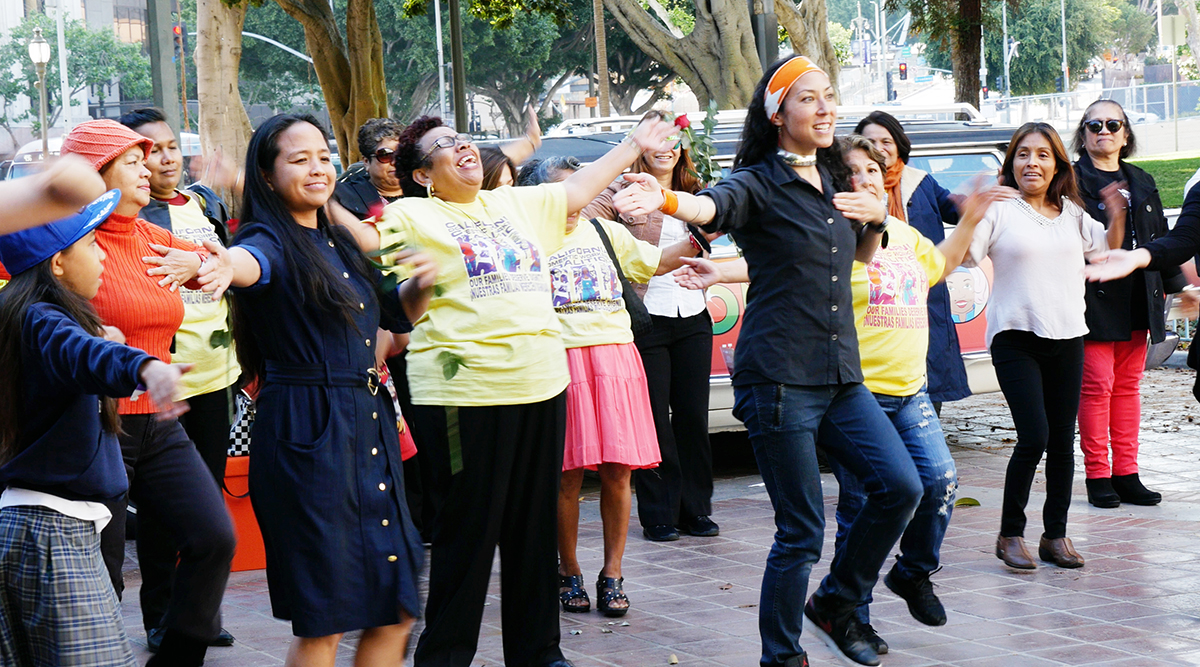 Marisa Morán Jahn
Founder and Executive/Artistic Director
Jahn is an award-winning artist of Chinese and Ecuadorian descent. Characterizing her playful approach, MIT CAST writes, '[Jahn] introduces a trickster-like humor into public spaces and discourses, and yet it is a humor edged with political potency." Since 1999, Jahn has taught in public schools, afterschool programs, worker centers, and more recently on a university level at Columbia University, MIT's Art, Culture, and Technology, and The New School and is an internationally recognized speaker at venues such as The White House, Tribeca Film Festival, Creative Time, National Fine Arts Museum of Taiwan, Museum of Modern Art, and more. She has exhibited works at Yerba Buena Center for the Arts, ArtBrussels, Asian Art Museum, ICA Philadelphia, New Museum, and more. Her work has been reviewed in The New York Times, CNN, BCC, ArtForum, Art in America, The Fader, Wall Street Journal, and more and received awards from Creative Capital, Anonymous Was a Woman, Sundance, Visible Project, and more.
Caroline Garcia
Collaborator, Performer
Caroline Garcia (lives and works in New York + Sydney) is an interdisciplinary artist from Sydney, Australia. She works across live performance and video through a hybridized aesthetic of cross-cultural dance, ritual practice, new media, and the sampling of popular culture and colonial imagery. Caroline's recent projects include Flygirl, developed at the EMPAC Residency, facilitated by Australia Council for the Arts in 2017, and performances at the Manila Biennale, Art Central Hong Kong, and The Vera List Center for Arts and Politics NYC, all in 2018. Caroline was one of the eight artists selected for Primavera 2018: Young Australian Artists at the Museum of Contemporary Art Australia, and is the 2018/19 recipient of the American Australian Association's AUSART Fellowship Award.
Anjum Asharia
Co-Pilot
Anjum combines her skills as a designer with rigorous research, and razor sharp analysis to produce works that straddle the arts, media, civic/cultural engagement, and social change. She received her B.A. in Philosophy from Welseley College Anjum worked with the Boston Center for Refugee Health and Human Rights, and the Family Literacy Involvement Program at the Children's Museum of Houston
Advisors
Sunny Bates, Braintrust, TED Talks, Kickstarter; Entrpreneur
Kendal Henry, Curator, Artist, Public Art Consultant
Amanda Hickman, Media Strategist and Data Journalist; Adjunct, The City University of New York
Larisa Mann (aka "DJ Ripley"), Co-Founder, Dutty Artz
Christiane Paul, Curator, Whitney Museum
Sujatha Singhal, Educator; Instructional Designer
Tricia Wang, Global Tech Ethnographer
Mabel O. Wilson, Architect; Professor, Columbia University

Previous Advisors
Aina Abiodun, Immersive Media-Maker; Founder, Storycode
Kadambari Baxi, Architect; Professor, Barnard College
Cornel West, Scholar, Union Theological Seminary